LI graphing linear equations
Morena team,
So we ran into some confusion around linear equations. Lets go back
we are going to graph this equation
y= 2x +3
Step 1. Create a three columned table like the one below.
Step 2. Start by picking your x values. In the table below you can see that the person has picked -4 all the way to 2.
Step 3. Work out what the y= by placing each of the x values into the equation. eg.
y=2x + 3
so
y= 2 times -4 and then add three. Remember in bedmas we do the multiplication first, then the addition.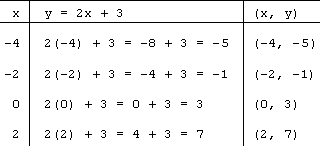 Do this for each of your x terms which you can put in your third column, which will have the coordinates for you to graph.
Lets try doing it with the equation
y= 3x +1
Remember to use the steps above.
NEXT: actually graph those points. Remember, its always going to be a straight line.
Once you have created a table like the one above with each of your terms, read through this great tutorial on graphing the points, although you guys seem pretty capable at graphing coordinates.
Click here.